Services >> Website Content Update Services
Content Update Services for your website
Intrawork offers website content update services to current clients and new customers. Regardless of where a customer may have their website hosted these services are still offered. Rates may vary dependant upon the customer's technologies used for their website code and hosting environment. For a quote please send us a request by clicking here.
---
Content Update Service Rates
Set Up
No Charge
Update Services - Up to 30 Minutes
$25.00
Update Services - Up to 60 Minutes
$40.00
Update Services - Hourly Rate
$40.00/hr.
click here to request a quote
---
Content Management and Workflow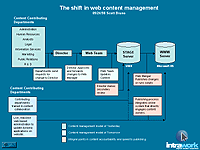 Ongoing content changes and updates and the workflow process associated with content management are critical to maintaining an effective web presence. Intrawork has experience with both standardized and custom content management solutions and can work with you to determine and implement the most appropriate content management method for your organization. In fact, Intrawork created its forward-looking content management model in 1998 well before others in the Internet space were doing so. Please take a look at this model by clicking on the image to the right.
Content Management Systems
Intrawork has been on the cutting edge of content management since the beginning of the internet. From creating environments based upon the latest technologies such as Dream Weaver, Interwoven TeamSite, Microsoft FrontPage and SharePoint systems Intrawork's team has installed and maintained systems for small, mid and enterprise level business needs. One of Intrawork's more recent projects was building an online based content management system for the U.S. Army. The requirements called for administration interfaces with user friendly WYSIWYG design elements allowing for anyone with basic computer knowledge to be a content contributor. Key elements of this solution were in the content management flow and streamlined process by which content owners could rapidly deploy their latest content in the lease amount of time. Should you or your company be looking for a custom content management system that targets your businesses main strategies and objectives look no further than Intrawork to get the solution done on time and under budget. Because of this last customer need and end result Intrawork has a great baseline foundation of a content management system that we can offer a baseline of functionality to our new customers and then build up upon the elements based upon the custom requirements from the client. Contact us for a quote.
Writing Content
Our content services also include exceptional writing capabilities. Our staff is comprised of individuals with award-winning marketing and public relations writing experience and contributors to major newspapers and magazines. Specific areas of writing expertise are quite varied. These include, but are not limited to: cultural arts, food and entertainment; travel/hospitality; science/medicine/health care; banking/finance; residential and commercial real estate; politics/government; and a broad spectrum of technology.
Content Migration
Designing and building a web site often requires migrating the content from an existing web site into the new design. Intrawork offers fast and cost-effective content migration services.
For more information about our content and writing services please click here >>